Welcome to Ms. Glatt's Weebly Page!

The purpose of this site is to give Freshmen and their families ways to increase learning and retention throughout the year. There are all kinds of videos, games, and tutorials on this website, all intended to enhance comprehension and expertise! I will add to this site as we move through the year, so stay tuned!

The District has implemented a new gradebook on Illuminate Ed. Unfortunately, the old Home Access Center is no longer available. I post grades in the classroom every 3-4 weeks. In the future, SRCS should make a parent portal to the gradebook.




​
Business Writing:


Be sure to check out Naviance at the SRHS College and Career Center for more resume & scholarship tips, as well as cool career aptitude tests

!
There's a lot to do with Naviance!

Looking for a job? Here's a great article on what to look for.
www.localwise.com/articles/137-21-best-part-time-jobs-for-teens-and-high-school-students
​

Upcoming Literature Units:
​
Poetry 180 from the Library of Congess: www.loc.gov/poetry/180/p180-more.html

John Stienbeck's Of Mice and Men: youtu.be/4bWapdqm9uQ​
Powered by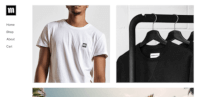 Create your own unique website with customizable templates.